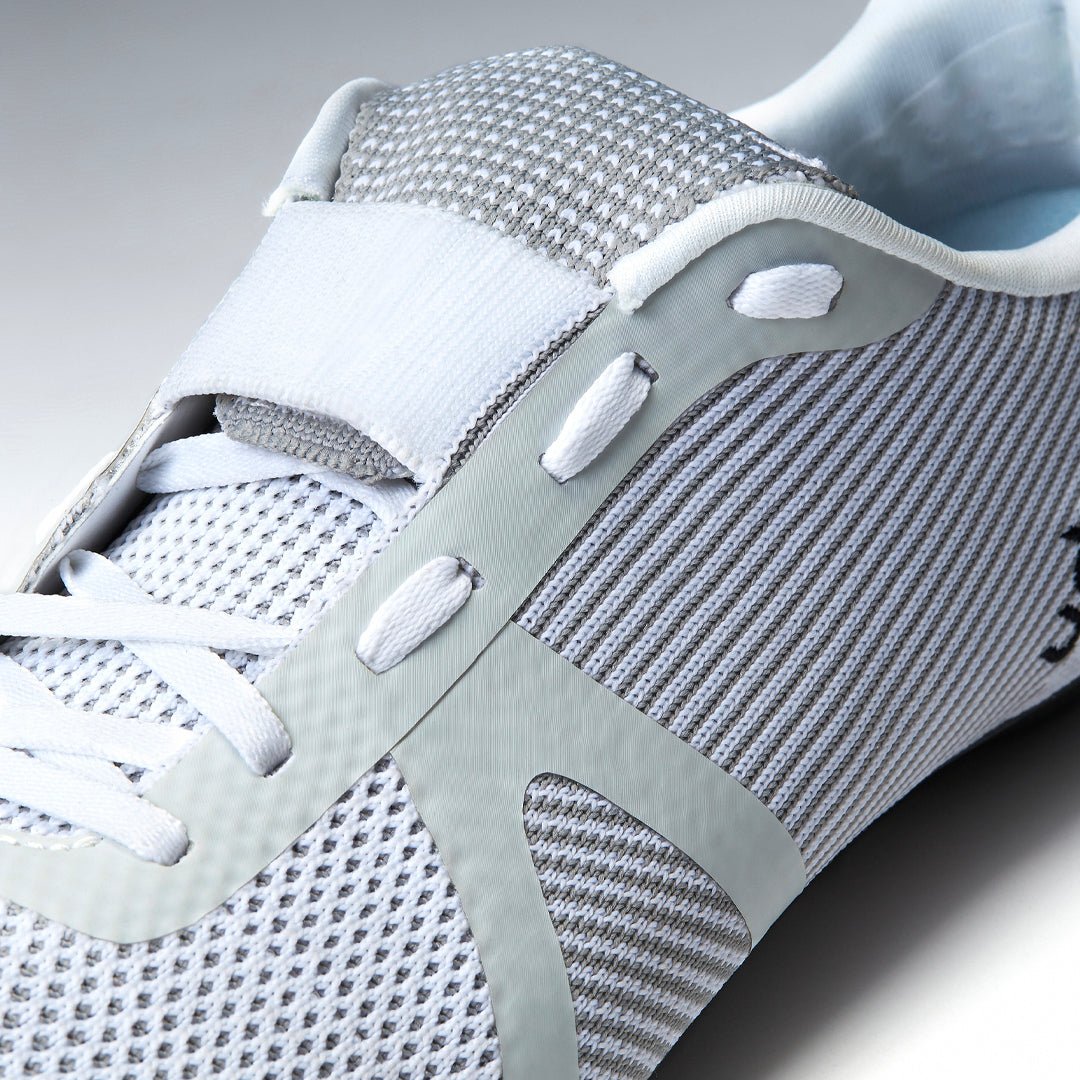 PTS - Pocket Tongue System
Pocket Tongue System (PTS) is a patented closure system that provides a hyper-clean design. The unique extra long shoe tongue combined with the elastic bridge, this system provides an internal pocket for storing the knotted laces and an integrated aero cover for a clean and dynamic design.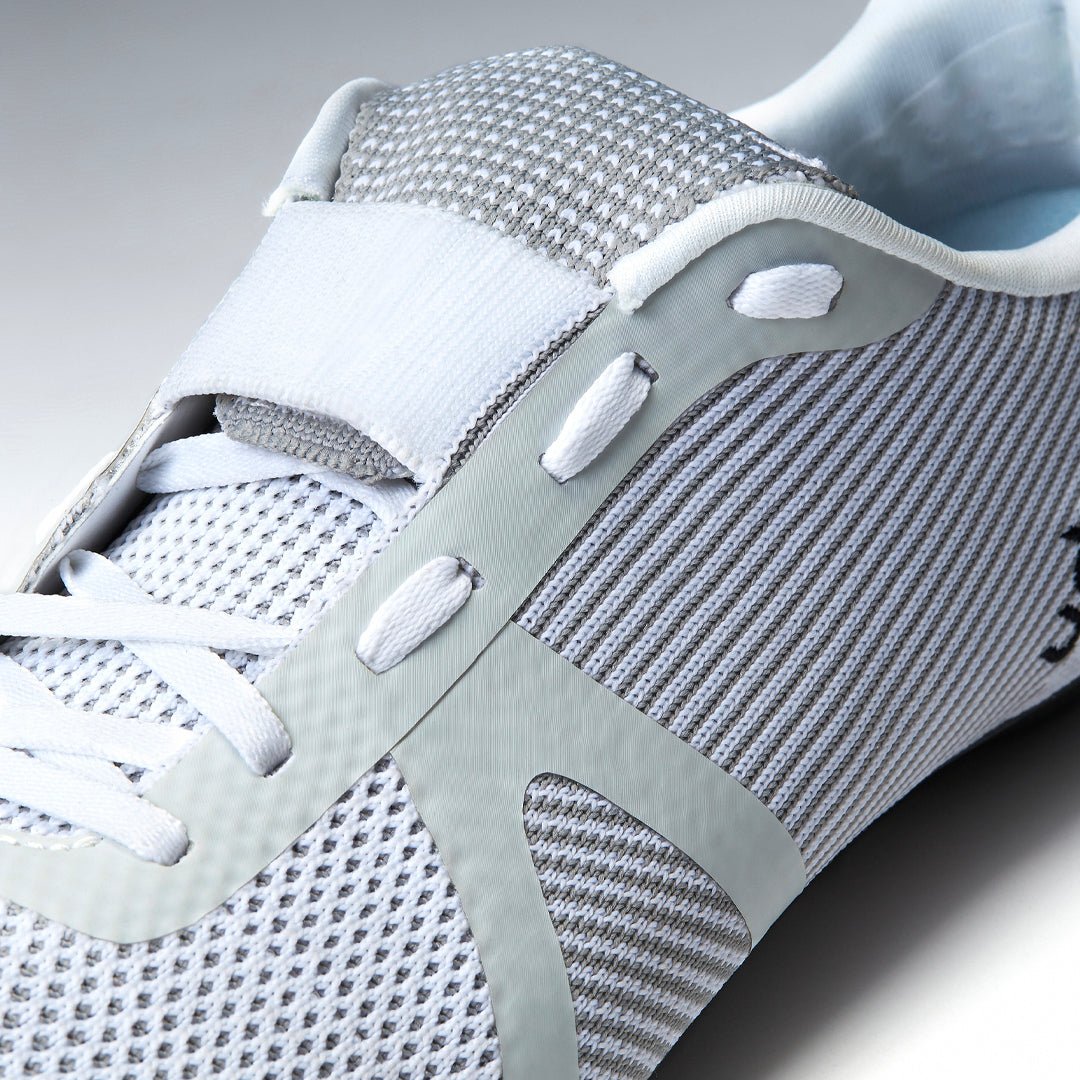 Knit
UDOG's knit technology is designed to create a unique upper shoe that is lightweight, supportive, breathable and waterproof. Knit is a one-piece seamless upper made of engineered knit material, the most sophisticated and innovative material in cycling shoes. By eliminating all plastic and metal components, the entire upper features minimal stitching and TPU layers to get the best out of the material and provide unparalleled comfort. The super-soft sock-like material adapts to any foot shape and every fit, while different technical knit patterns are used within the single Knit upper for optimal performance and comfort. CIMA utilizes a tight-knit construction in the medial arch area to provide dynamic support, and a more breathable construction in the toe box for flexibility to fit any foot shape.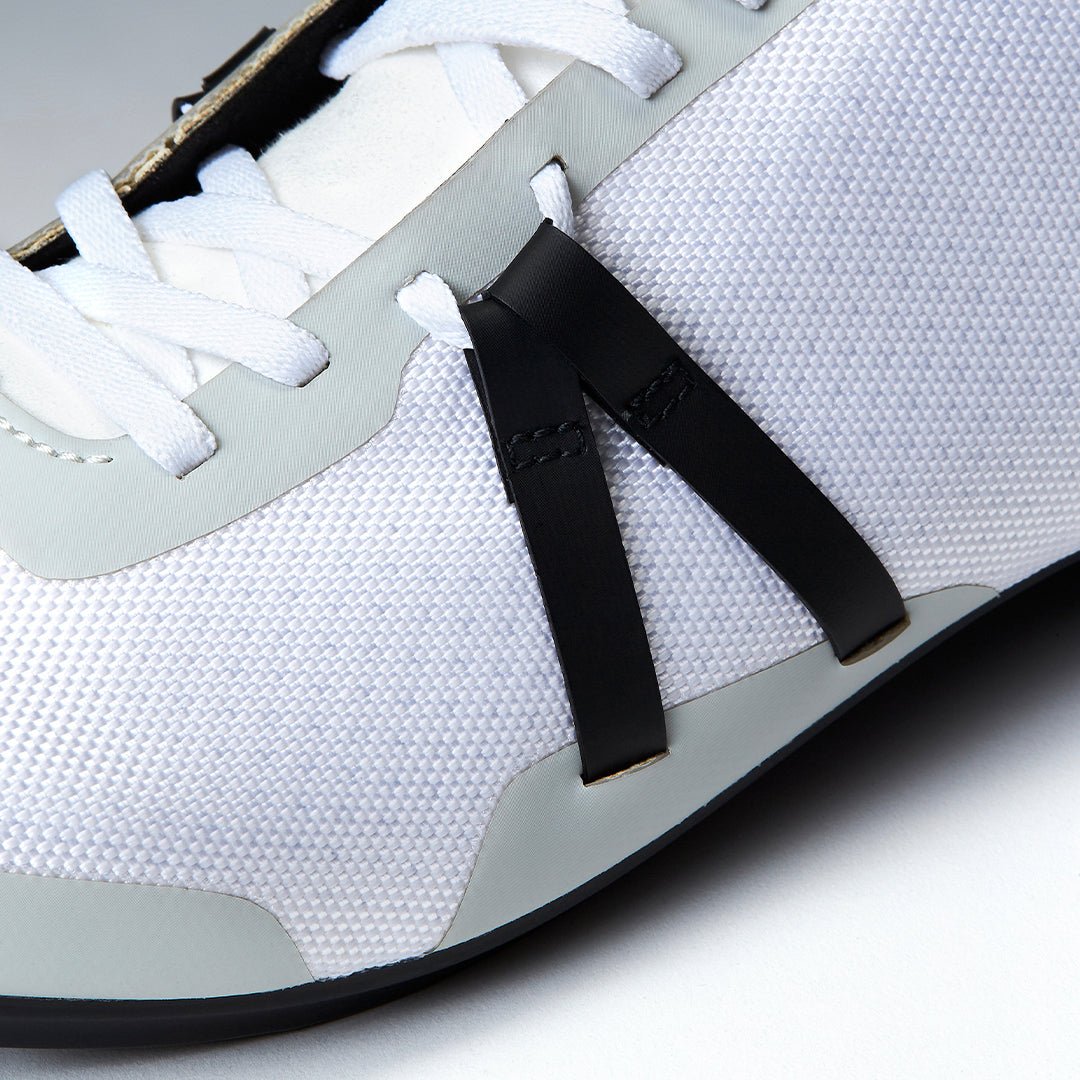 TWS - Tension Wrap System
Cycling is about pushing and pulling pedals for hours. TWS is designed to allow your shoe to follow your feet when pulling up.
Tension Wrap System is a metatarsal dynamic system that hugs the metatarsal area of your feet from the instep to the bridge for an optimum fit.
Two tensioners pass through the upper, underneath the insole, over the outsole to envelope the foot from the bottom to the top. Ultra-precise laser cuts on the bottom of the upper allow tensioners to link all elements precisely.
Tension Wrap System enables a more controlled transfer of power to the pedal. It holds your foot for complete comfort during the entire pedal stroke.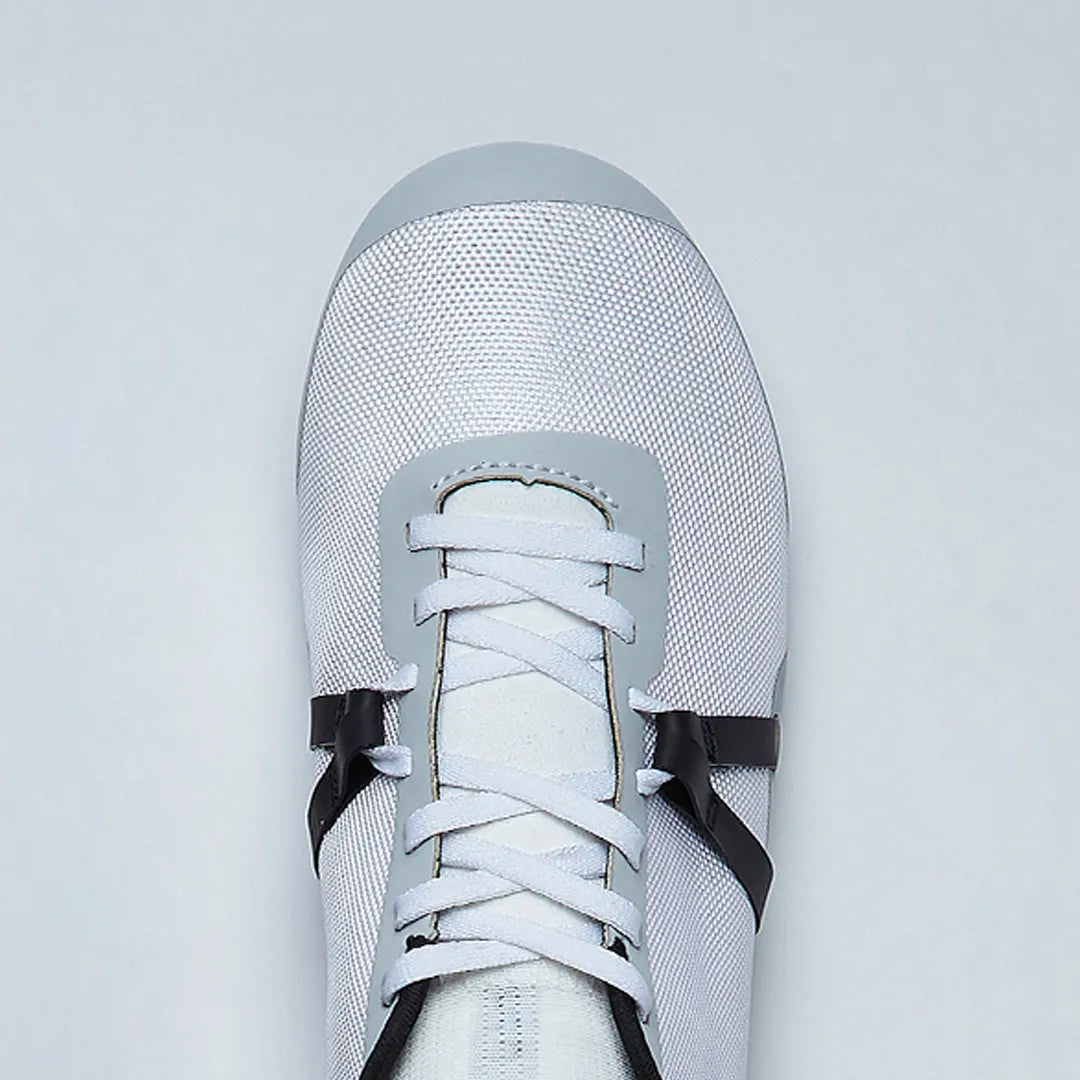 Last
Last is the mechanical form shaped like a human foot. It is used by shoemakers in the manufacture of shoes. Shoe lasts are like a template used by shoe manufacturers to ensure consistency and accuracy in shoe production.
We spent all our experience and hundreds of hours prototyping and real-world testing UDOG last.
UDOG last has been developed to provide a generous toe box that offers extraordinary freedom and comfort. The heel cup shape instead is deep and narrow for maximum performance when pushing and pulling.
Comfort is crucial.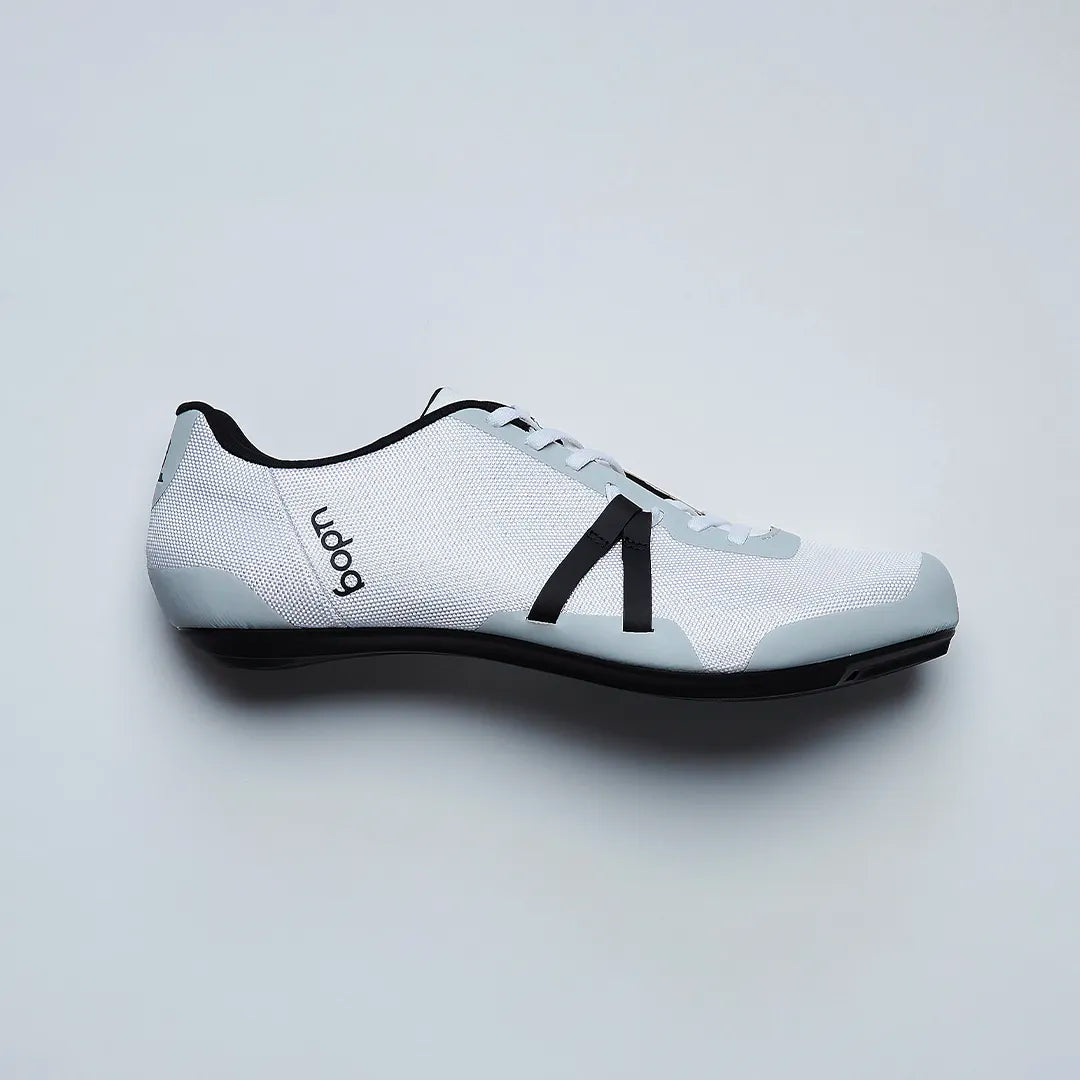 Comfort for your feet
UDOG shoes don't control your pedal stroke with a rigid upper. Instead, a whole team of laces/holes/ bands/laminated elements on the upper actively reacts to your individual cycling need. There is no predefined stiffness on your feet you must adapt yourself instead, the upper adapt on your foot shape. This puts you back in control, empowering each cyclist to ride how he or she is meant to ride.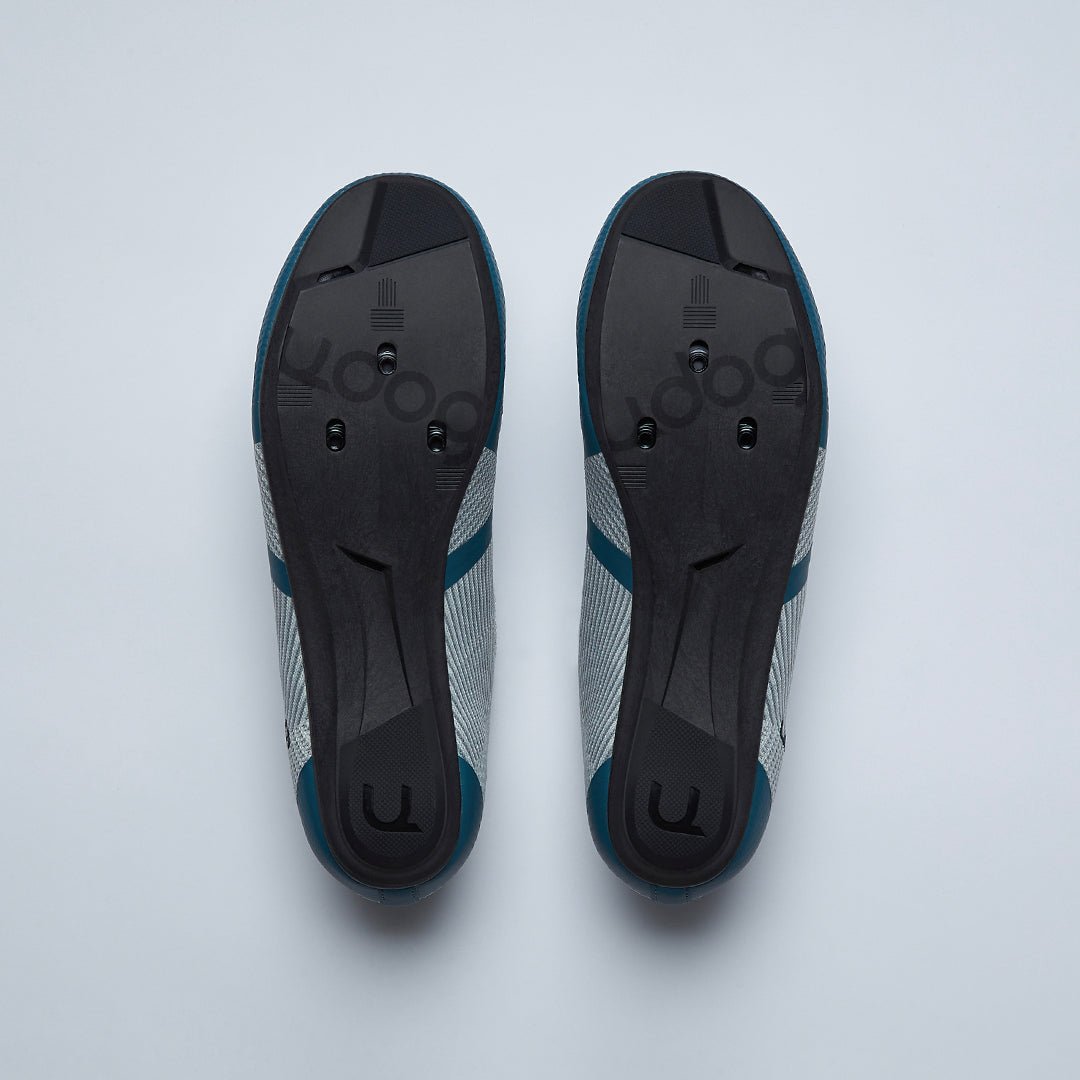 Cima Outsole 11.0
Designed to create the best blend between comfort and stiffness, CIMA uses an ultra-stiff high carbon composite outsole with a stiffness index of 11. CIMA Carbon outsole is developed with a directional ventilation channel, and integrated rubber heel and toe caps. The outsole features a large platform for easy cleat engagement, and generous fore/aft bolts adjustments for precise fitting.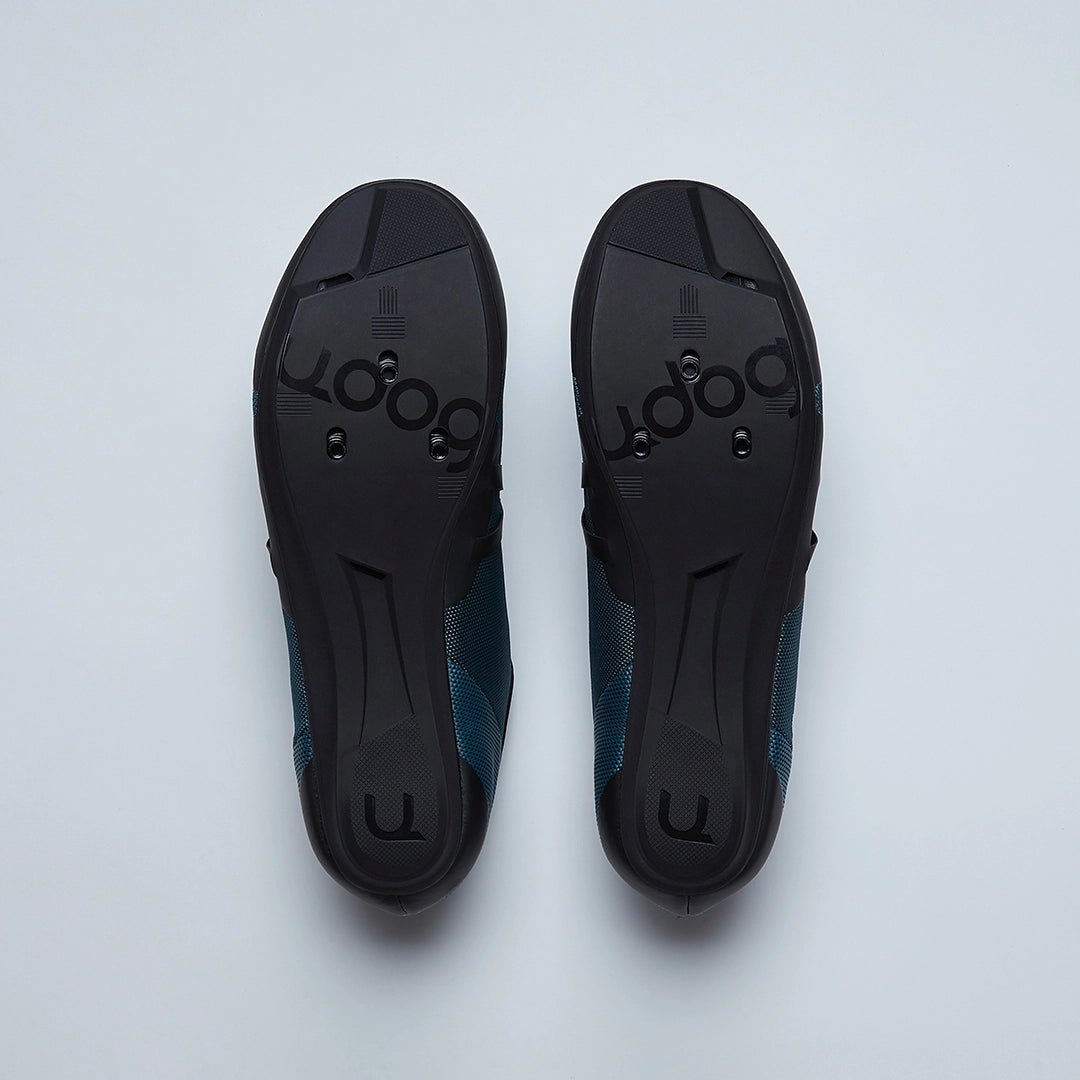 Tensione Outsole 7.0
Tensione outsole made of composite carbon and nylon with a directed ventilation channel, integrated rubber heel and toe caps for added durability. A large metatarsal platform for easy cleat engagement. A high-performance stiff outsole engineered for consistent stiffness along the foot; ensuring optimal power transfer bonded to a breathable, soft, and comfortable upper.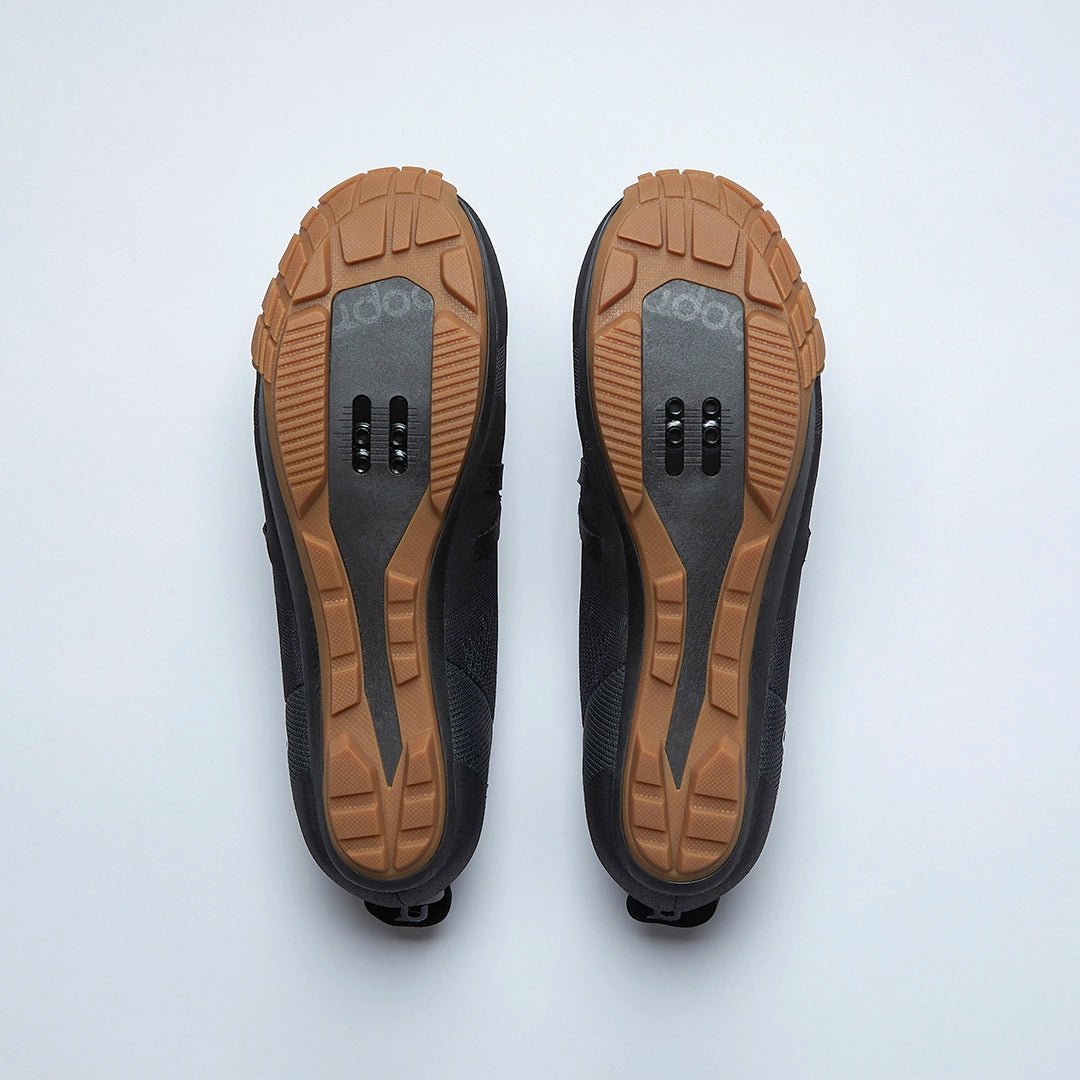 Distanza outsole
This outsole, built around a carbon composite core, features a molded sticky rubber
which winds over the toe and around the heel to create a rugged look. The super
stiff carbon sole performs the best possible power transfer, while the innovative
rubber molded construction is designed with large lugs that provide traction,
protection and unparalleled walking comfort.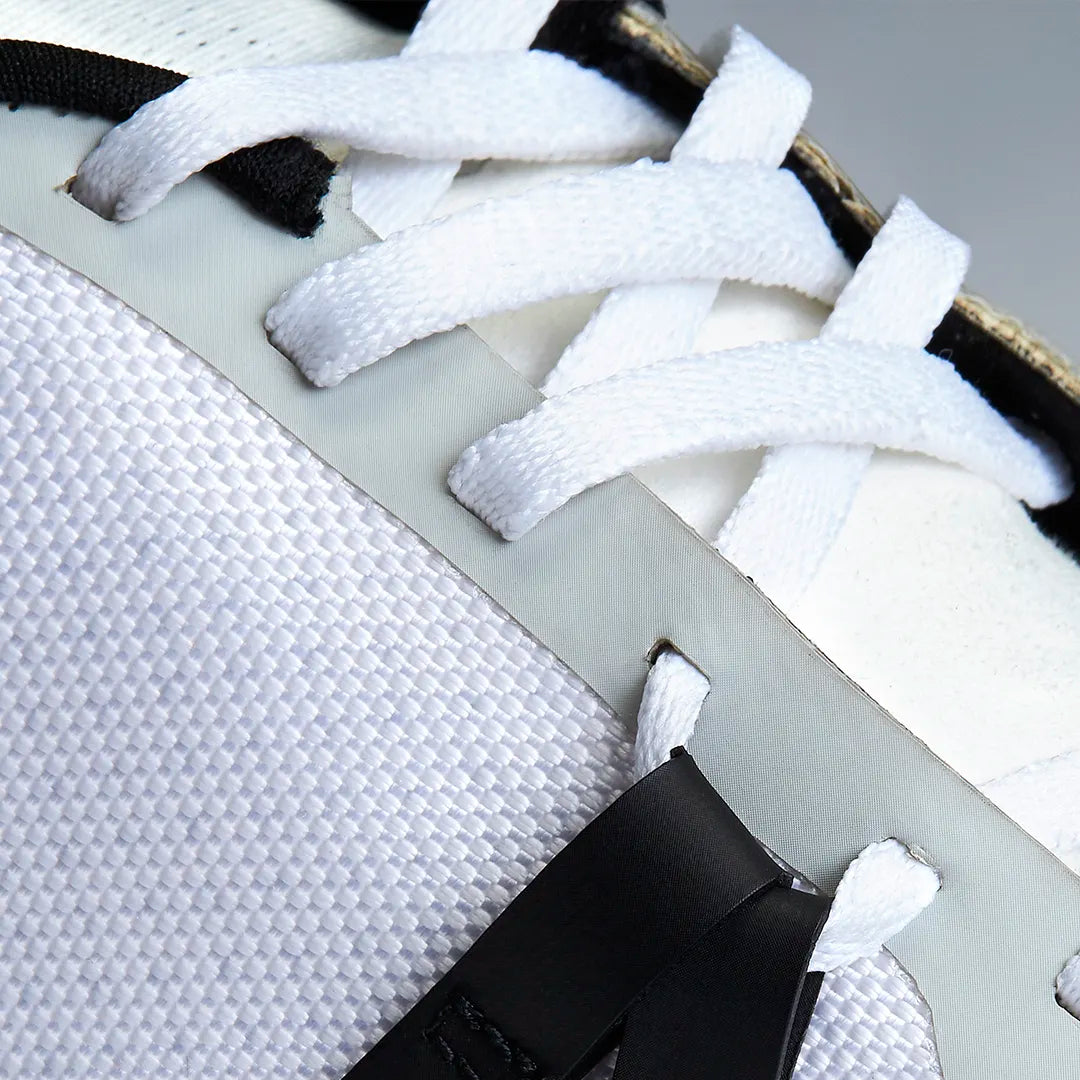 Laces
Laces have been carefully selected and tested to identify the best laces for a high-performance cycling shoe. Traditional laces tend to lose while pedaling, for this reason using proprietary laces that are flat and pressed, no stretch and no air inside, creating a rope knot effect that guarantee the best fit shoe from the most demanding crit races to the longest endurance rides. UDOG laces are 100% recycled polyester and PFC free.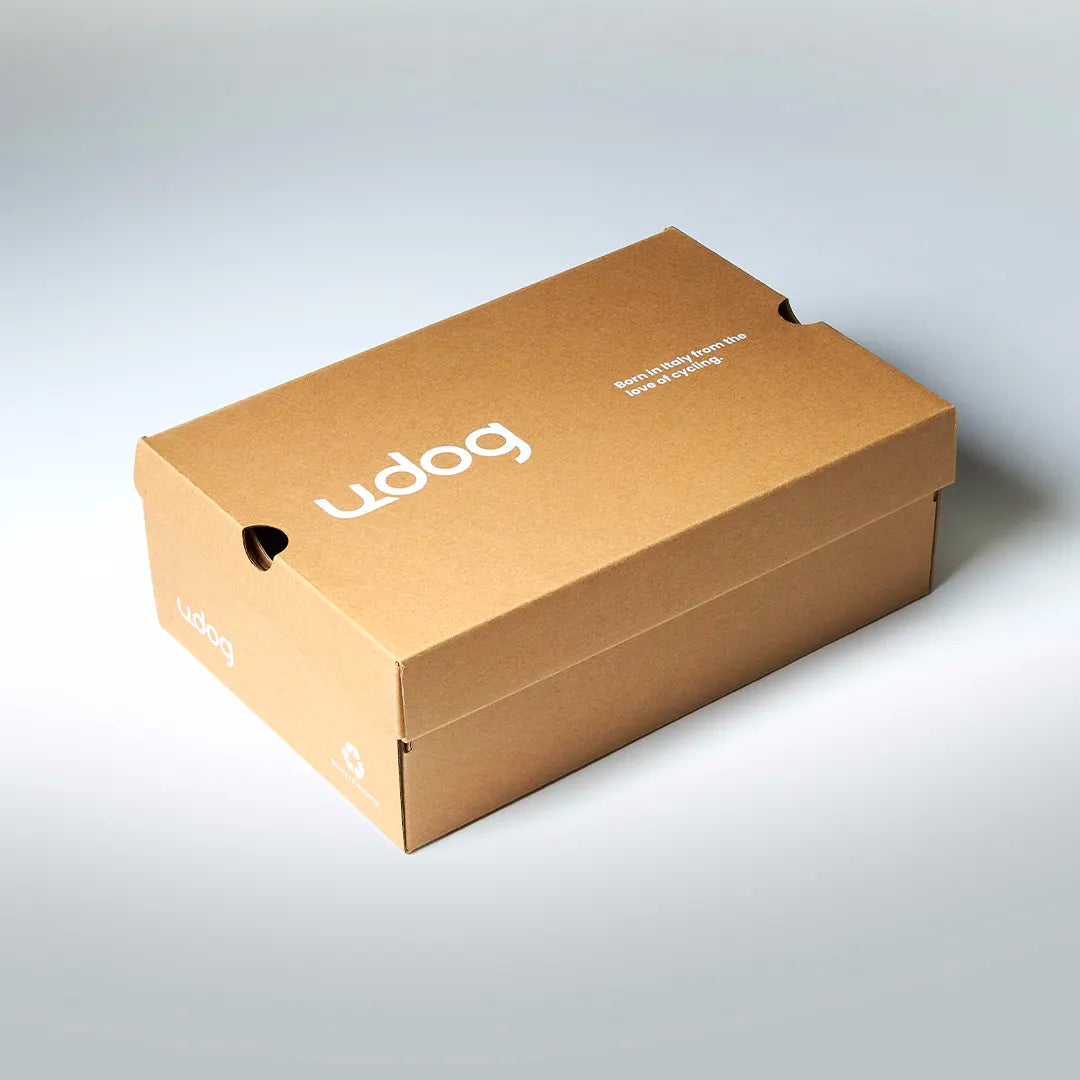 Box & Packaging
We use 100% recycled and recyclable packaging including boxes and wrapping paper. We minimize the use of printing on the shoebox to reduce the use of ink and reduce the weight of the shipment which ultimately reduces the carbon footprint. Our manufacturing partners and the materials we use are certified by recognized organizations and bodies such as GRS, FSC, and RCS.